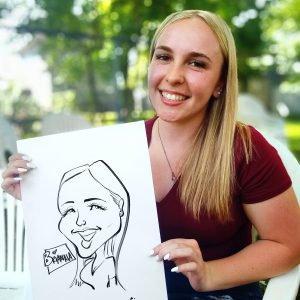 SNAPsketch Gallery
Make your party perfect.
SNAPsketch caricatures are the famous, quick party sketches created on-site at parties and events. They are available in either black and white or color, and you may choose either just headshots or full custom bodies. They are created on 11×17 paper with markers. Color is done in chalk pastel.
Printed messages, clip art, photos or borders are available for the drawing paper. We also have black cardboard mats available.
See the Blog for most recent party work!