SNAPsketch Prices & Info
On-Site Party Sketches for Your Party Event!
SNAPsketch caricatures are the beloved, quick sketches drawn live at parties and events! They are available in either black & white or color, and you can choose either just headshots or full custom bodies. They are created on 11×17 paper with markers. Color is done in chalk pastel.
Printed messages, clip art, photos or borders are available for the drawing paper.
Have questions? Check out the FAQs page!
See the Blog for most recent party work!
PRICING
$25 OFF BOOKINGS OF 4 HOURS OR MORE!*
Most areas have a minimum of 3 or 4 hours (but always check – if I'm in the area, I can often accommodate a shorter job!)
Black and White, $140/hour
Color $170/hour
We offer either headshots or full custom bodies that can be chosen by the guest. Please see below to calculate how many hours you may need.*
• Black and White Headshots up to 11-15 guests per hour
• Black and White with Bodies up to 6-8 guests per hour
• Color Headshots up to 6-8 guests per hour
• Color with Bodies up to 4-5 guests per hour
* Venue must be within 45 minutes of The Blue Studios (Green Brook, NJ)
* Since they are affected by many factors, speeds can't be guaranteed. Lots of shading (dark hair), slow or talkative guests, writing names, and extra accessories like glasses and tiaras can slow drawing times.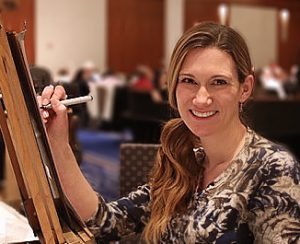 It's okay… do your Google search, see all our gold stars and rave reviews, then click here to book!