Welcome to the Blue Studios Caricatures! Please see our different types of caricatures and learn more about our services.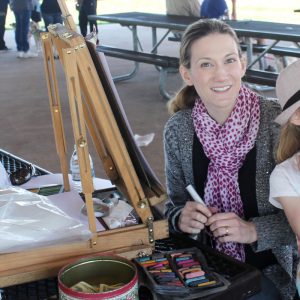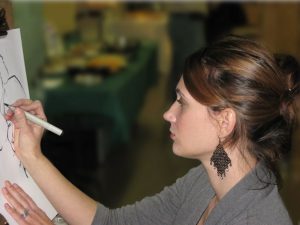 ABOUT US
The award-winning Blue Studios, located in Somerset County, NJ, provides NJ's best cute and funny caricatures. Christine Fusco, our primary artist, has been drawing caricatures professionally since 1999 and is known as "The Kindest Caricature Artist of New Jersey."
Beginning as a professional artist at Six Flags Great Adventure, Christine has branched out into published studio caricature, illustration and graphic design during her many years with Cigar Magazine and JR Cigar. Now, she is a full-time freelancer and party caricature artist.
SERVICES
• HyperREAL Painted Caricatures
email chroe@yahoo.com or call 732.645-BLUE (-2583)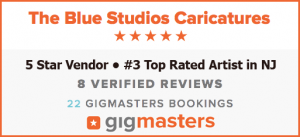 Rosario P, Scotch Plains, N
"Christine was very professional & is super talented! This was a big hit at my son's carnival themed 1st birthday party. Everyone including the adults wanted to get in on the fun!! I would highly recommend her. "
Stephanie F, Old Bridge, NJ
"Christine was fabulous – I hired her for my sister's bridal shower and it was just great – everyone loved their drawings and she was very quick, doing approximately 25-30 black & white drawings in 2 hours time. She was extremely professional and very nice. The drawings were spot on and highlighted the best features of each guest. I would highly recommend her! Thanks Christine :)"
Rosemary L, Skillman, NJ
"Christine was on time, professional, accommodating and a pleasure to work with. Her drawings are incredibly good and capture the essence of the person!"