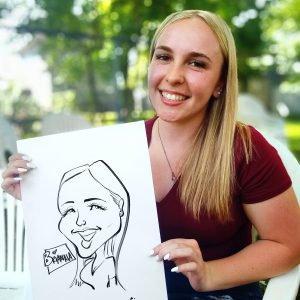 Since the pandemic is still kinda a thing, the bride and groom of this wedding chose to have their celebration outdoors. It was laid-back and casual, but still loads of fun, and a reunion of sorts because most of the guests of this huge family hadn't seen each other in over a year.
The Blue Studios Caricatures feature Christine, aka The Kindest Caricature Artist in NJ! No mean exaggerations here, just elegant likenesses that are perfect for elegant affairs… or sensitive teens. Based in Green Brook, NJ.
Book at 732.645-BLUE (-2835)
or email chroe@yahoo.com
Color Snapsketch headshots. All rights reserved.