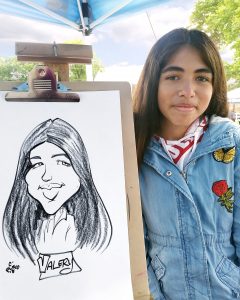 Back at Kean University, this time drawing caricatures for Homecoming. It's always a pleasure drawing for Kean and they're only about 20 minutes away.
The Blue Studios Caricatures feature Christine, aka The Kindest Caricature Artist in NJ! No mean exaggerations here, just perfect likenesses that are perfect for elegant affairs… or sensitive teens. Based in Green Brook, NJ.
Book at 732.645-BLUE (-2835)
or email chroe@yahoo.com
Black & white headshots. All rights reserved.