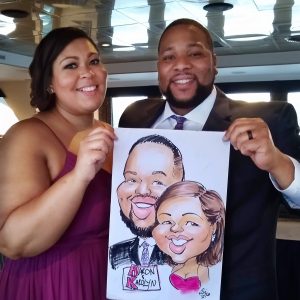 This was one of the coolest wedding venues ever. All aboard The Atlantis, a yacht that cruises up and down the Hudson River while the wedding guests celebrate. I'm glad I took my dramamine, because it turns out that drawing on a boat is even harder than reading in a car. Still, the amazing views and lovable guests made this a gig to remember.
The Blue Studios Caricatures feature Christine, aka The Kindest Caricature Artist in NJ! No mean exaggerations here, just elegant likenesses that are perfect for elegant affairs… or sensitive teens. Based in Green Brook, NJ.
Book at 732.645-BLUE (-2835)
or email chroe@yahoo.com
Color Snapsketch headshots. All rights reserved.